FRIDAY 11 DECEMBER, ONLINE
DRESS CODE: BLACK TIE
The International Mixed Martial Arts Federation (IMMAF) has announced its nominees shortlist for the Best Junior Athlete Award 2020 ahead of its third annual Amateur MMA Awards.
The winner of the category will be decided by member vote, with one vote per National Federation: Links to vote will be emailed to federation presidents on 1 December, with voting closing on 4 December.
The nominees for Best Junior Athlete 2020 are as follows:
Muhammad Mokaev (England)
England's young prodigy Muhammad Mokaev completed his 23-0 amateur tenure by winning the 2019 IMMAF junior bantamweight world championships, taking gold for a second time on-the-back of four triumphs that included a thrilling third collision with top rival Reo Yamaguchi. The number-one ranked junior also picked up the 2020 Oceania Open title ahead of a highly publicised professional debut later in the year.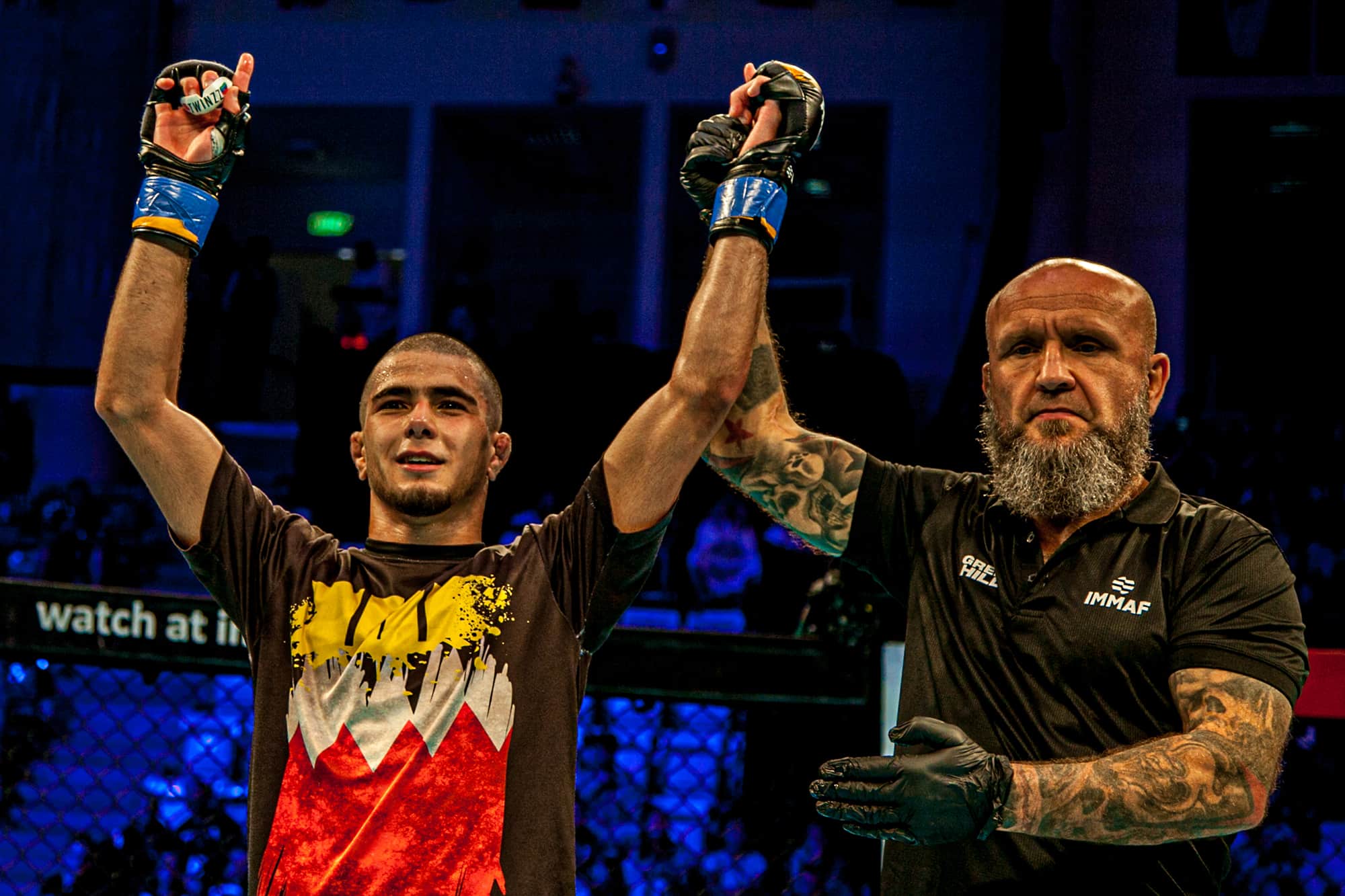 Rustam Ashurbekov (Russia)
The formidable Russian national team were the dominant force of the 2019 Junior World Championships. Among their five gold medals, if was national junior heavyweight champion Ashurbekov who stood-out with a pair of first round TKO victories to claim his first world title on the IMMAF stage in unrivalled fashion.
Gani Adilserikov (Kazakhstan)
Bouncing back from defeat at the 2018 world championships, Kazakhstan's Gani Adilserikov battled through a trio of rivals in the stacked junior flyweight ranks to claim world championship gold.
Anna Gaul (Germany)
Germany's two-time European gold medallist secured her first junior world title and solidified her place as the highest ranked female junior competitor. Gaul fought her way to the world championships final and secured the gold with a third-round arm-bar submission.
Murad Guseinov (Bahrain)
It took nine challenging rounds for Team Bahrain's Guseinov to capture the junior welterweight world title. His landmark achievement was underpinned by the daunting line-up of rivals from teams such as Russia and Kazakhstan, including triumph in the tournament final against Russian young adults' gold medallist Kamil Shaikhamatov.
ABOUT THE 2020 IMMAF AMATEUR MMA AWARDS
The prestigious occasion will take place on Friday 11 December to celebrate achievements across amateur mixed martial arts of IMMAF athletes, coaches, officials and National Federations during the period spanning November 2019 to October 2020.
Awards fall into three categories; those open for Member Vote, data based awards and those decided by an IMMAF panel. See below for the full list of award categories, with nominees for Member Vote Awards to be announced shortly.
The dress code for the virtual Awards is black-tie, with invitations due to be issued to National Federations.
AWARD CATEGORIES
Member Vote Awards (Athletes)
Best Female Athlete
Best Male Athlete
Best Junior Athlete
Best performance (of the 2019 World Championships/ 2020 Oceania Open)
National Federations Awards (IMMAF panel decision)
Most Proactive National Federation
Host Federation of the Year
Social Impact Award
Best on Social Media Award 2020
National Federations Awards (data based)
Best IMMAF Educator Award (Most Active National Federation in implementing the IMMAF grading scheme in 2020)
IMMAF App Award ( for Best National Federation in use of the IMMAF App in 2020)
Best National Federation for MMA Coaching (Most active National Federation in implementing IMMAF Coach Certification Program)
IMMAF Anti-doping Award ( for achievement of the highest number of WADA ADeL certifications)